Tuco Compressor
$74.00
Tuco is based on vari-mu tube technology with feedback topology. The clean, warm, and crisp sound!
Description
Tuco compressor is based on vari-mu tube technology with feedback topology. It can be clean, warm, and crisp at the same time. Exhibiting subtle and natural compression at low amounts and plenty of punch at higher settings. And is an original Sonimus development, designed using analog modeling techniques.
Tuco is ideal for drums, vocals, or any tracking instrument and sounds great applied to a whole mix. Due to its "stereo modes" (Dual Mono, Stereo Vintage, Stereo Modern), it can be used for tracking, as well as for mastering.
KEY FEATURES:
All tube vari-mu design.
Four compressor modes:

Fast Attack Compressor.
Slow Attack Compressor
Fast Attack Limiter.
Slow Attack Limiter.

Release knob with slow to fast settings.

Auto Makeup Gain control.
Three stereo modes: Dual Mono, Vintage Stereo, Modern Stereo.
Mix control for parallel compression. (two modes).
Output tube saturation controlled by a drive knob.
A/B switch for a/b comparison.
Presets system to create and edit both user and factory presets.
Support for HQ screen resolution (Retina).
Optimized for real-time usage.
Tuco Compressor In-depth
Compressor Mode
Slow Attack Compressor
Fast Attack Compressor
Slow Attack Limiter
Fast Attack Limiter
Stereo Mode
Mono: Processes a stereo input through a mono unit compressor
Stereo Vintage: Feeds the sum of both channels (left and right) into a single unit detector circuit, then applies the same "gain reduction" to each channel. This mode sounds open and wide.
Stereo Modern: Each channel (left & right) is processed independently. Combines the two gain-reduced channels into one, resulting in an equal gain reduction for both sides.
Dual Mono: Each channel is processed independently by two compressor units.
VU Meter Mode
Gain reduction Meter
Input VU Meter
Output VU Meter
Auto Makeup Gain
Auto Makeup Gain (AMG) compensates for volume drop resulting from compression. To activate AMG, click on the "Amount" label. AMG does not modify audio dynamics. Rather, it calculates a gain compensation approximation.
Mix Modes
The Mix Before Output Control: You can blend dry/wet without worrying about matching dry and wet signal volumes.
The Mix After Output Control: You must level the compressed signal using the "output knob" to achieve your desired dry/wet signal ratio.
Controls
Amount: Adjusts the amount of compression. Functions like a "threshold" control.
Output: Adjusts the compressor's Make Up Gain.
Release: Adjusts the compressor's release speed: 0: Fast, 10: Slow.
Mix: Mixes the "dry" uncompressed signal with the "wet" compressed one.
SC HP: Applies a High-Pass Filter to the side chain input signal (useful for bass guitars and/or bass drums).
Drive: Adjusts the amount of tube style saturation (When set to zero, saturation is bypassed).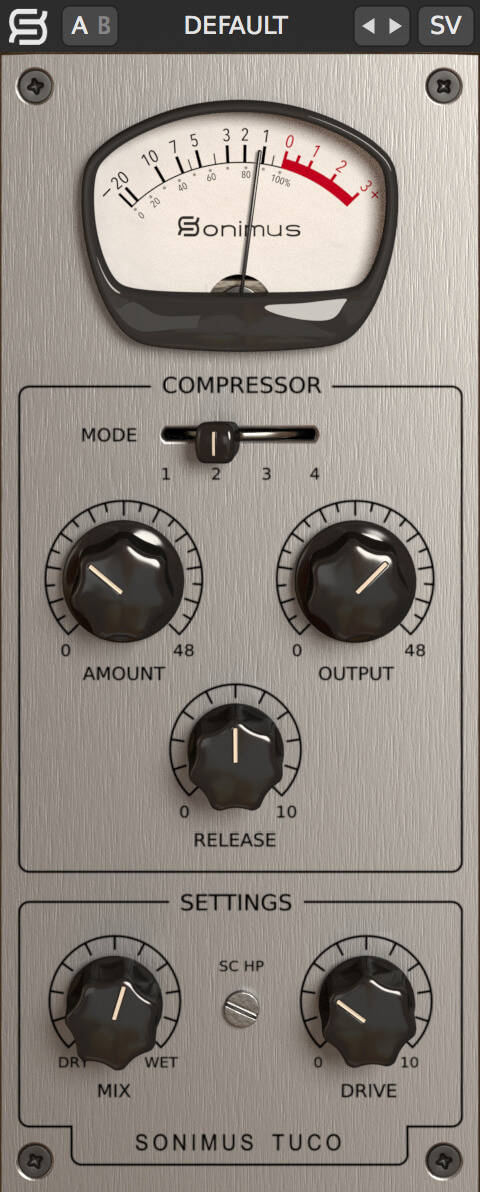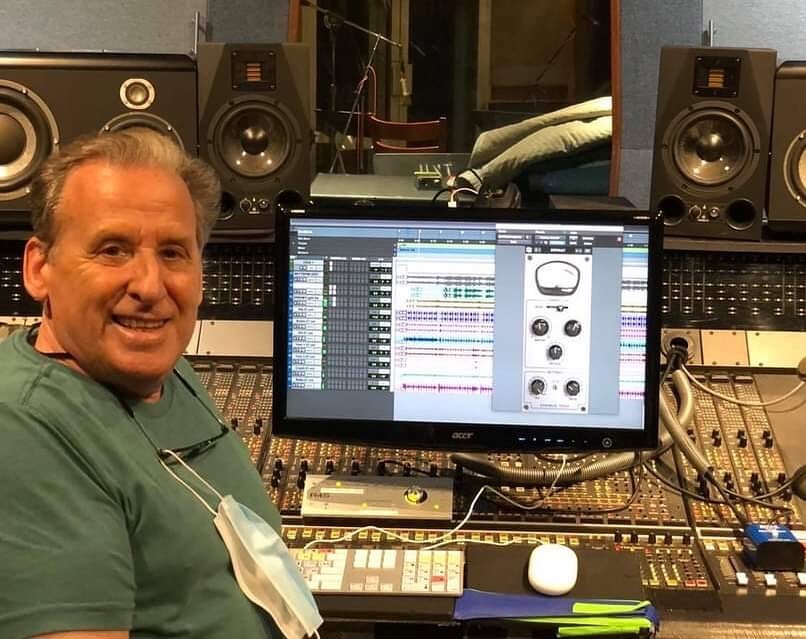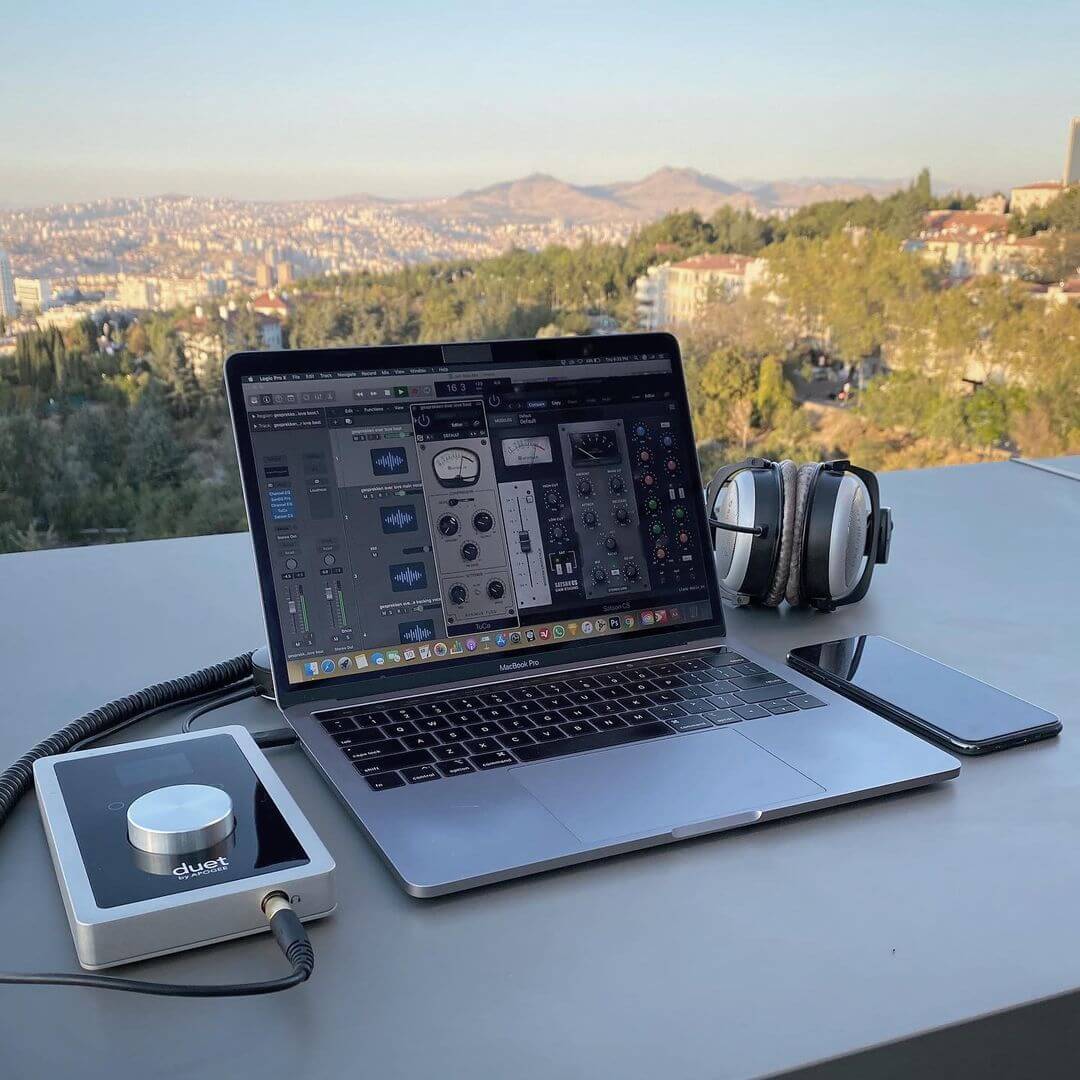 Testimonials
"I like the approach of the TuCo, especially the drive, I'm already using it thoroughly on a new movie mix!"
"Plug-in developers Sonimus are already well known for excellent emulations of analogue EQs and consoles, but although their first compressor is based on a variable-mu tube circuit as used in the Fairchild 660 and 670, it's not an emulation of those venerable units. Rather, TuCo shares some of their 'analogue' sonic characteristics and adds a few useful features."
"…I use these plugins ALL THE TIME! TuCo has found its way as a staple on my mix bus, and seems to add some magic dust to my drums… I have nothing negative to say, I love them…"
Only logged in customers who have purchased this product may leave a review.